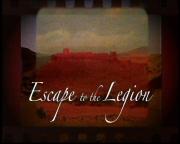 It's always great to get a nice email about some music I've written...Particularly when it comes from as far afield as Canberra, Australia, like the one I got today.
It was asking if the music for Escape To The Legion was available for purchase. I get asked this about various programmes I've written for quite often. Unfortunately, if the music was written especially for the programme, it's not made available to buy. However, I do have a lot of music on iTunes which is available for download...There is a link on the right hand sidebar which links directly to the albums that are available...Please check them out!!!
Workwise, I'm currently working on a short from VenturaFilms called Banquet Royale and a film for Jackdor Productions.
Back to wildlife news...We've spotted seven moorhen chicks on the lawn looking very fluffy and lively. We're keeping an eye on Buz the cat to make sure that he doesn't spot them too!!!